Dayton Peace Accord
The Dayton peace accord established three separate educational departments in Bosnia. It was seen as a temporary post war solution lasting only until a unified government could be established.  Twenty years after the war ended this education system has become permanent. Currently 18 percent of secondary schools, or roughly 52 schools in Bosnia are divided in the same building. Two schools under one roof exist only in the Bosniak and Croat dominated areas. In other areas of Bosnia the prewar mixed population through ethnic cleansing, intimidation, and prejudice has caused all but one ethnic group to flee (Coles 49). Ethnically divided educational departments teach subjects such as languages, history, geography, government, and religion differently.
Separate Curriculum 
The Serbian curriculum has a Serbian world perspective. Students learn of the symbols, struggles and sacrifices of the Serbian people neglecting other ethnic perspectives. In Croatian classes Bosnia and Herzegovina is referred to like a foreign country such as Serbia or Macedonia. Croatian textbooks are published in Zagreb, the capital of Croatia outside of Bosnia. Textbooks of each ethnicity contain both subtle and blatant hate speech.The children attending these schools are ethnically isolated from the other ethnic groups. In some of these schools there are also visible barriers between each group (Coles, VanBalkom and Baera 49,2012). In Gornji Vakuf-Uskoplje, a small town in the Central Bosnia, Bosnian and Croatian students enter and leave the building via separate entrances. If the children try to socialize with one another they get punished by their teachers with lower grade ("Under One Roof in Bosnia"). Unintegrated institutions also have segregated school boards and administrations (Coles 49). The current educationalsystem in Bosnia is unequal, discriminating, and abominable to European educational standards.
Comparison with US Segregated Schools
Up until the 1950's black and white school children in America attended separate but equal schools. Blacks were separated from whites by law and by private action in transportation, public accommodations, recreational facilities, prisons, armed forces, and schools in both Northern and Southern states. Segregated schools were unevenly funded allowing for a great disparity between the education of white and black children. In the mid-to-late 1920s Georgia spent $4.59 per year on each African-American child as opposed to $36.29 on each white child. This disparity and funding caused over 80 percent of teenage African Americans to drop out before reaching high school (Lowe). In the American segregated schools black children were treated unequal and racially discriminated. This discrimination was bad for American society just as modern day Bosnian schools are.
Violation of Civil Rights
Racial and ethnic division in Bosnia have not escaped un-noticed by civil rights organizations.The son of the famous civil rights leader Martin Luther King Jr. who is also a civil rights leader Martin Luther King III came to visit this country. Martin Luther King III acknowledged that both Bosnia and United States are home to a diverse people. He believes that Bosnia can overcome ethnic and racial differences just as America did (Msnbc). Martin Luther King III has also stated while being patient people of Bosnia should feel inspired to work together to end this educational discrimination. Kingsays, "When people are willing to work hard enough, its diversity can be a source of great strength as well" (Cerkez-Robinson). Martin Luther King III believes in change within Bosnia and urges young people to create a country based of their dreams rather than their frustrations.
Consequences
There are consequences of having a segregated school system. Roma, the most vulnerable minority group, continue to face widespread discrimination, high unemployment, low levels of school enrollment, political representation, and standards of living ("World Report 2014: Bosnia and Herzegovina."). Serbians who already autonomous region within Bosnia are pushing for greater autonomy and eventual statehood. Croatians in the southern section of Bosnia are ambitiously trying to create their own autonomous region. Bosnia is going to be divided further if nothing is done. Ethnic desegregation in Bosnia today is greater than ever before.
Call to Action
Desegregation of Bosnian schools starts with the educational staff. Teachers and other educational staff members are children's role models. In most towns teachers are the most educated members of society. Parents of the students and the school alumni respect teachers and value their opinions. Bosnian educators after college lack further training opportunities. Recent advancements in education are not familiar to educators in Bosnia.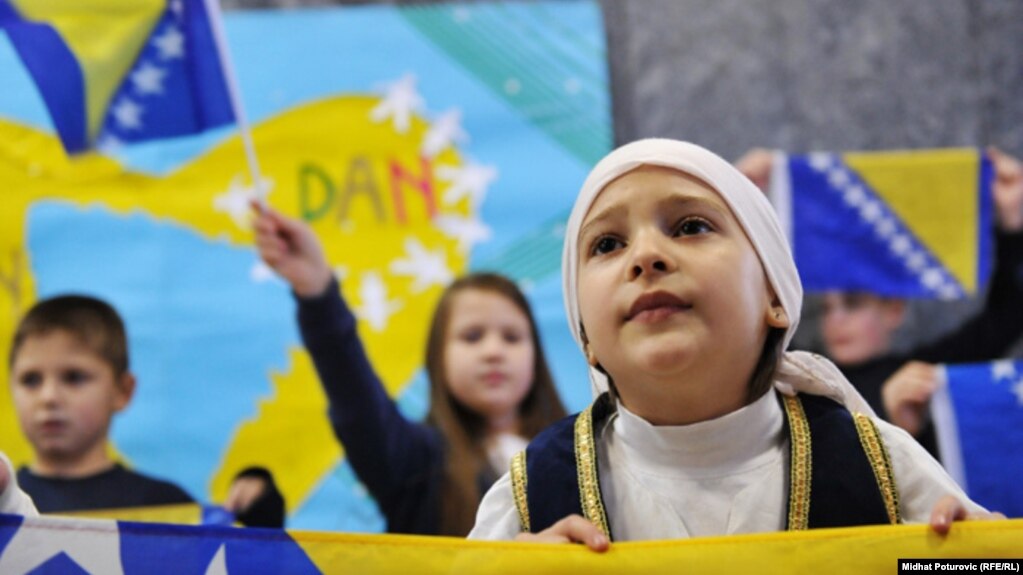 Desegregation of the Bosnian schools is a complex problem. There are multiple educational departments and hundreds of bureaucratic jobs in the way of desegregation. The first step is having three groups talk to one another without hatred. According to Talić "the biggest problems are segregation and isolation, as well as general absence of tolerance, acceptance and understanding". We need to break down the barriers to move beyond discriminatory policies for well-being of Bosnian's children and youth and for guaranteeing a positive future where all are able to receive an education in a comfortable and safe environment. The children of Bosnia did not ask for this kind of educational system, nor did their parents. The politics have decided what is best for them. While this segregation violates the Bosnian Law against discrimination as written in the Bosnian Constitution, all Bosnian citizens need to work together to create equal educational system for all ethnic groups ("Bosnia and Herzegovina: Law of 2009 on Prohibition of Discrimination"). Outside observers such as Martin Luther King III acknowledge that the solution to this problem needs to be solved in a slow and effective manner.